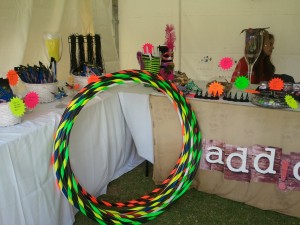 Hula hoops for sale in Cape Town……Do you want to buy a professional hula hoop? We are able to supply hula hoops of all sizes, custom made to your needs.
How to choose a hula hoop size
We supply hoops in sizes Small (85cm), Medium (95cm), and Large (105cm), although if you need a specific size of hoop, let us know and we will make it to your size specifications.
What size hoop should you choose?
Normally the bigger and heavier the hula hoop, the easier it is to use because it moves slower. Professional hoops are normally smaller and lighter, while bigger and heavier hoops are for beginners. This is usually why most adults find it impossible to hula hoop with a childs hoop from a toy shop, its usually way too small and light.
The small hoops are suitable for children and petite or advanced adult hoopers, if you are tall, you will find this size more difficult. The medium sized hoop is a good all rounder and can be used by most people quite easily. The large hoop is the easiest hoop for adults to learn hooping with.
Professional and advanced hula hoopers combine waist hooping with a variety of advanced tricks and arm hooping, throws, poi etc, so a smaller and lighter hoop is normally preferred, such as the polypro hoops
Are you ready to choose your style of hoop?
Our hoops come in a variety of pre-designed styles, although if you want something specific, please let us know and we can quote you on a hoop using your preferences.
Please call or Whatsapp Sylviane on 084 564 0558 to arrange a hoop, and she will custom make the hoop to your specifications. Some popular choices are shown in the pictures below.
Hoops for sale:
Weighted hoops
Weighted hula hoops are great for exercise and those of you who are trying to lose weight. We supply weighted hoops on request, please specify that you want your hoop to be weighted when you order from us. A weighted hoop is about 2x the weight of a normal adult hoop. Weighted hoops are an extra R100, so the price of a regular hoop, with an extra R100 added.
Polypro Hoops
We do sell polypro hoops, which are generally for advanced hoopers, not beginners. If you are looking for a polypro hoop, please visit our polypro hoop page.
How to look after your hoop
You need to store your hula hoop in a cool dry place. You can lay it flat on the ground, hang it up on the wall, or lean it up against a wall. What you dont want to do is put it in a place where it's likely to get twisted or warped.Hula hoops dont like extreme heat. Do not leave your hoop in direct sunlight for long periods of time. Do not store your hula hoop in a hot car, especially if it will be exposed to direct sunlight. Too much heat can cause your hula hoop to have a kink to it, or your tubing can melt and become warped.Where possible, hula hoop mainly on nice soft surfaces such as grass, carpet or sand. This is really important if you are a beginner and you tend to drop the hoop a lot. Rough surfaces such as concrete will scratch the hoop and scuff up the tapes much faster.